I was building my model kit one night and I thought - since I haven't blogged in a while; and I never seem to have posted any blog on my wip projects, I'd do a post on it this time. So here, this is a post on one of my mecha model kit wip(work in progress). The star of this post is the Armored Core Crest CR-C90U3 (Dual Face Version).

For the uninitiated, Armored Core is a popular console mecha game where players are allowed to customize virtually every aspect of their lean mean fighting machine. Although I personally have not played this game before, I find the mecha designs to be exquisite. The CR90U3, specifically the dual face version caught my heart the moment I saw it. Luckily XL-Shop carried one last box and I snatched it up, hiaks hiaks.

I'll have to say, when I started building the kit, I am swamped by the amount of parts that this kit offers! There's gotta be like 200? 300 parts? Gosh, imagine when I get to the Gundam PGs... my friend told me there's like 600 parts to those Gundam PGs!

Ok then, without further ado, let the pics speaks for itself.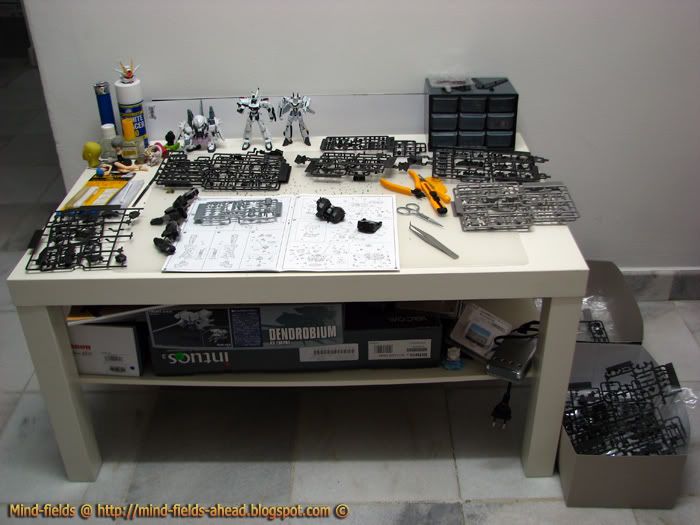 My work bench is covered by parts from the kit. Those boxes at the right on the floor aren't junk, those are the parts of the kits as well. No room on the table liao!!
Close up look. Awww, ZakuSD, FreedomHead, Patlabor and VF-1S are watching tentatively over the 'production' of CR-903U.
See those small grey bolts, those are separate parts which have to be detached from the runners and snapped into the main part one-by-one!! And they're like 5mm in diameter each!!
That round bolt in front is not part of the bigger piece, it's a separate part!! ZMOG!!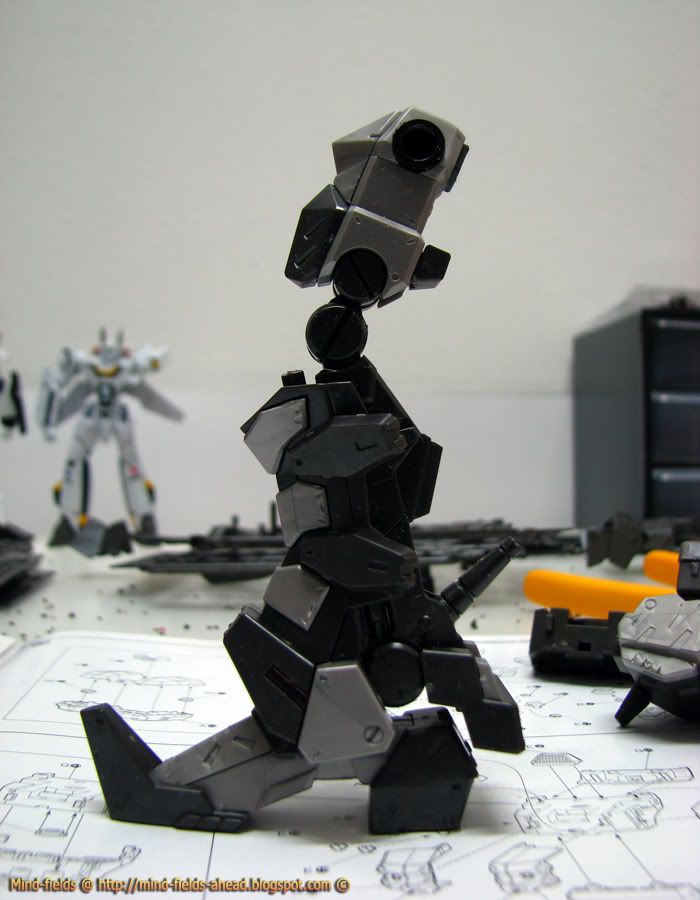 This leg alone probly consists of aorund 30-50 parts. That's a lot to me.
Look at 'em joints! Gosh so much detail put into the design! Haha, you can also see clearly I haven't clean the stubs left by the runners.
Well, I've come to love the feeling of building model kits. Especially in a quiet night. I'd sit in the empty living room, my full concentration on constructing the kits. The world around me totally shut off from my consciousness. Part by part, slowly inching towards completion. >.< I am so glad I found this hobby! And I am deeply thankful, and greatly humbled by the people who brought this hobby to the peoples.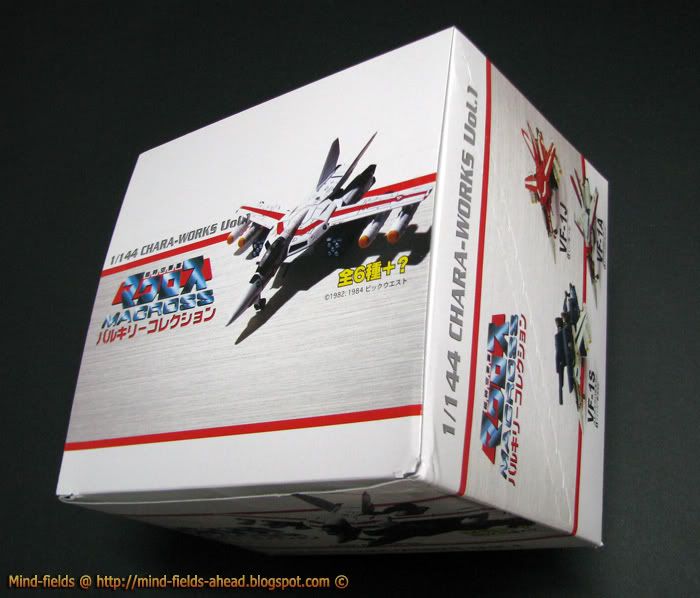 Next up, these lovely 1/144 Macross Valkrie replicas. <3!!